After being locked up for months, it's safe to say that all of us water-lovers are eagerly anticipating the day when we can enjoy scuba diving together again. While these days seem to be just around the corner, it is each of our personal responsibilities to prioritize being smart and safe in order to keep ourselves, and others, healthy. There are a lot of unknowns when it comes to what diving will look like in a COVID-19 world. However, there are many steps we all can take to create a "new normal" in diving. Here are some tips to consider when booking your next diving excursion:
PURCHASE YOUR OWN GEAR
While scuba operations are taking extra precautions to sanitize rental gear, the best way to reduce the spread of germs is by using your own gear. The gear items to prioritize are especially the ones that involve your face and mouth, such as your mask, snorkel, and regulator. Not only could you reduce the spread of germs, but you could also support a local scuba operation. Additionally, many scuba operators are offering discounts right now, so it's a good time to take advantage of deals.
PRACTICE PERSONAL HYGIENE, MASK WEARING, AND SOCIAL DISTANCING
Wash your hands, folks! Before interacting with other people, gear, or tanks, be sure to sanitize or wash your hands. We have a sink available for hand-washing and hand sanitizer around the shop. If you need to wash your hands but can't find the sink or sanitizer, please ask for help!
Even though scuba adventures involve a lot of fresh air, we do ask that you bring and wear a face covering. In fact, current policy here on Maui, requires face coverings for both clients and employees. Bonus points if your mask is scuba-related!
Keep a distance of at least 6 feet from other people (when possible) and keep group sizes small (as we always do)! For the foreseeable future, we will separate our shore-diving groups into family/buddy groups. This way, there will be less unknown variables during your dive experience.
STOP SPITTING IN YOUR MASK
While spitting in your mask is a great way to keep it from fogging up, "the greener the cleaner" may be a popular scuba joke that needs to be put on hold! We ask that you use anti-fog in our rental masks to reduce the spread of germs. Although we clean and sanitize our gear, we want to reduce the possible spread of germs by NOT spitting in our rental masks. You are free to do whatever you wish with your personal mask. However, rinsing in the rinse buckets is off-limits for masks that have been spat into. So, don't forget to bring along your favorite anti-fog solution as well (or use anti-fog provided by your dive pro)!
RINSE YOUR FACE
As you probably know, it is not uncommon to ascend from a dive with a snotty nose. Typically, it is best to leave your mask on your face until you are out of the water. During current times, we think it is a good idea to come up from your dive, fully inflate your BCD, signal OK, then pull your mask down around your neck to give it, and your face, a rinse before putting the mask back on your face. This will reduce the amount of contact that others will have with germy mucus when handling gear.
DON'T SHARE MOUTHPIECES
Unless there is an actual emergency situation, it is recommended that we do not share mouthpieces with our buddies. We share mouthpieces a lot in scuba lessons, like during out-of-air exercises or during a pre-dive buddy check. However, there are ways that we can safely simulate these exercises without actually sharing mouthpieces. During your course, your instructor will explain how to safely do this.
Some may feel drawn to purchase their own mouthpiece to be used on a rental regulator. While this may give you peace of mind, the key to using rental equipment during the COVID-19 pandemic (and any other time, frankly) is proper sanitation. As you know, the regulator has many components that can be covered with germs. While breathing through the regulator, the inside of your second stage becomes covered with saliva droplets. So, without proper sanitation, changing the mouthpiece will do very little to protect you from germs. You'll likely find it's easier to forego the personal mouthpiece and instead ask questions about their sanitation practices on the rental regulators.
ENROLL IN E-LEARNING
PADI is offering a discount on eLearning, so now is a great time to enroll in that course you've been wanting to complete! Although we love the personal attention that comes with an on-site classroom session, PADI eLearning offers an in-depth, online classroom portion of their courses. This way, you can learn at your own pace while social distancing! Of course, if you need further explanation of diving principles, PLEASE ask your instructor for clarification. You have a full year to complete the water-portion of your course, once the eLearning portion of your course is completed. Sign up today and get started! PADI isn't the only game in town for remote learning though! We have a Coral Reef Conservation specialty course we developed, with three of Extended Horizons' staff Instructors teaching you about coral reef ecology – sign up today for a deep dive into reef knowledge with us!
HAVE DIVE INSURANCE
Before, during, and after COVID-19, it is recommended that you have diving insurance. Be prepared for the unexpected! On top of dive injury insurance, some dive insurance companies cover trip cancellations which is a smart idea to have, given the uncertain times we currently live in.
ASK QUESTIONS
Whether you are diving with us at Extended Horizons or someplace else in the world, don't be afraid to ask questions! Want to see how we sanitize our rental gear? Ask! Want to know our procedure for social distancing? Ask! For many, these are scary times. It seems that it will soon be safe to resume scuba tours, but things will be different. As you learned in your Open Water course, if you have any uncertainty or nervousness, let your dive pro know! We will do our best to address your concerns, ease your nerves and keep you safe, healthy, and comfortable.
---
Although there are a lot of changes coming as we adapt to our "new normal," we hope that our diving community is brought closer together. We've all been without diving for months, some have had trips cancelled, and we've all been missing our underwater friends. However, this is our chance to work together to build a safer and healthier diving community now and long into the future.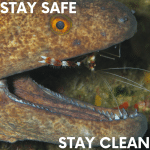 Here at Extended Horizons, we have been staying up to date on state policy surrounding the COVID-19 pandemic. Scuba operators have to assess many variables in order to create a safe and healthy environment for their divers, so diving procedures will look different in the future. Smarter companies will have methods and systems in place to reduce the spread of germs. Please remember to support your scuba operator by asking questions and being flexible, especially when it comes to cleaning personal gear.
As a team, we have been creating our own system for keeping both our clients and ourselves healthy. We are geared up and ready for some safe and enjoyable diving adventures! Until then, happy (and healthy) bubbles! We look forward to making underwater memories with you soon!
Information from this post has come from Extended Horizons policy and PADI's "Travel and Diving Safety Tips During and After COVID-19"