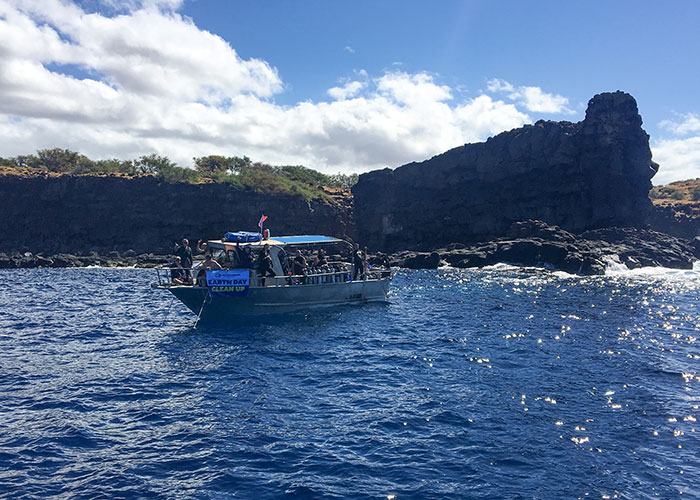 Maui is well known for its amazing dive sites that offer beautiful views of the ocean and the marine life that live there. If you're a novice diver and aren't sure what to expect on your first scuba experience, then let us at Extended Horizons guide you in the right direction. Being properly prepared for your first dive can help ensure a successful trip that allows you to make the most of your experience. Here are some tips that will prepare you for Maui shore dives and Maui boat dives. 
Basic Dive Checklist
To prepare yourself for your first dive, you'll need to pack the proper scuba dive equipment. Some of this list is necessary for any dive trip, and some things are optional to bring with you. Let's start with the essentials:
Scuba mask

Scuba gloves

Scuba tank

Fins

Snorkel

Wetsuit

Regulator

Depth gauge, Submersible Pressure gauge, Compass, and Dive computer. (These items are generally used together to help with dive navigation and safety).

Buoyancy Control Device

First Aid Kit – Your dive instructor will likely have a first aid kit on hand, but being extra cautious doesn't hurt.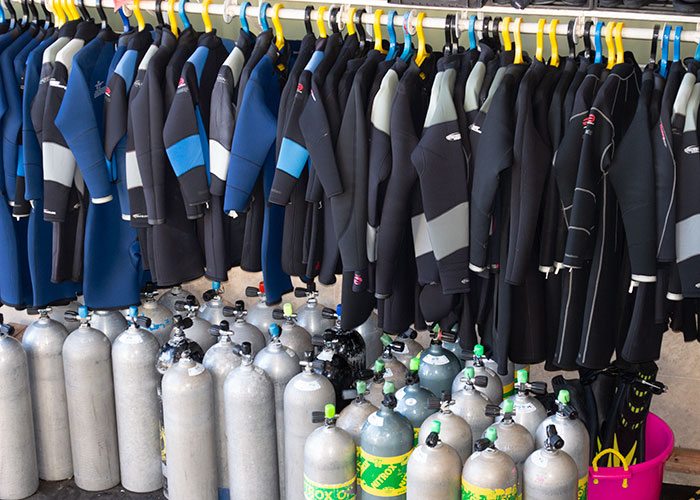 Another item that's worth mentioning is the diver-down flag. As part of the state law of Hawaii, divers are required to mark their position with a flag. The diver must also surface no more than 100 feet from their flag. When boat diving, the boat operator will be responsible for displaying the diver-down flag, and you can rent one while shore diving. The items listed above are meant to keep you safe and secure during your dive, so it's important not to forget any of them! The list below has optional items that could come in handy during your dive, but aren't considered necessary for your diving trip.
Underwater camera

Underwater light – again, your dive instructor will most likely provide this

Defogger

Dive knife

Dive logbook

Tank bangers – these are hard materials on elastic bands that can be wrapped around your tank and are used to communicate with fellow divers.

Best Dive Times
Maui shore dives and Maui boat dives are best in the morning. This is because the water is calm and it's bright out, which makes for great diving conditions. Maui usually experiences trade winds around the late morning and early afternoon, which makes waters choppy and difficult to enter. So it's best to avoid diving between 11 am and 1 pm. However, winds do begin to subside later in the day, making night dives very enjoyable.
Maui Shore Dives
Maui shore dives are easy and offer some of the most breathtaking views you can see. The entries and exits are mostly from sandy beaches and the depth changes are gradual with no steep drop-offs. In addition to the smooth entry and exit points, you'll dive Maui at depths of about 30'-40' allowing you to dive for up to an hour. 
Part of what makes Maui great for diving are the healthy coral reefs found on West Maui and the variety of marine life that can be found all over the island. And about 24% of the Maui coral reef's tropical fish are found only in Hawaii, making them a rare sight to see. Some of the other marine life that could be found on a Maui shore dive are turtles, sharks, frogfish, scorpionfish, and much more.  

Maui Boat Dives
Maui has the largest populations of green sea turtles which are commonly referred to as "honu" in Hawaii. And shallow boat trips are the perfect way to view them! Maui boat trips offer clear water and extensive varieties of marine life with the added fun of a short boat ride. One of the benefits of a boat dive excursion is that you won't have to walk to the dive site through the sandy beach with all of your equipment. Everything is packed onto the boat and brought out to the destination with you.
Maui Night Dives
Maui night dives are more common from the shore rather than a boat. However, shore diving at night can prove to be pretty spectacular. The marine life that is hidden from divers during the day tends to come out at night to hunt. The majority of marine life found at night are invertebrates such as squid, nudibranchs, and eels. It's also important to know that divers must have an Open Water Certification to dive at night in Maui, and you'll want to be properly prepared before heading out for a night trip. For instance, having high-powered dive lights will ensure your dive area is sufficiently lit for the best visibility. These are provided by the dive instructor, but you can always purchase an underwater light for added security.
In fact, our guides love night dives and love sharing the wonders of the sea at night. Extended Horizons offers a short scuba diving night class and a dive site briefing before heading out into open water at night. This helps new divers learn the ins-and-outs of night diving so they can enjoy their experience to the fullest.
Maui Shore Dives and Maui Boat Dives with Extended Horizon 
Extended Horizons offers a wide variety of guided dives available from the shore, by boat, or at night! Our experienced and certified instructors love being able to teach new divers the basics of diving. If you're interested in taking a dive in Maui, then connect with Extended Horizons today!