THE #1 CHOICE IN MAUI DIVE SHOPS
SCUBA DIVE IN MAUI & LANA'I
COME SCUBA DIVING WITH US ALONG THE COAST OF MAUI AND LANA'I
Extended Horizons operates Maui's friendliest, most experienced, and caring Maui scuba diving shop. Our Maui dive group sizes are small (maximum 4:1 ration of divers to guides). We have nationally credentialed and highly rated Maui naturalists/diving guides that know more, see more, and will show you more. We are consistently ranked the top scuba dive charter with the best Maui dive tours in the Lahaina area.
THE MAUI DIVING BASICS
YEARS IN OPERATION:
37 years diving in Maui!
 GROUP MAUI DIVE TOURS
Small groups up to 6 divers
FOCUS
Safety, Fun, Education, Conservation
STAFF
Guides are Instructors & Certified Naturalists.
Boat captains are divers too.
ECO-FRIENDLY
100% Bio-diesel boat,
Dive Shop Run on Solar Power
Maui Mooring Sponsorships & Installations
Reef Clean-ups & Recycling
ECO MAUI DIVING ETHOS
Extended Horizons was the first, and remains the only boat in Lahaina to run on 100% Biodiesel, sourced and made locally from recycled cooking oils. We've been running without fossil fuels since 2006! We are one of only five businesses in the State to receive Platinum recognition and be awarded the coveted Hawaii Clean Fleets award for our green initiatives. Our use of Biodiesel reduces our carbon footprint by 83% compared to Petro diesel.
DEEPER VALUE
OUR GOAL IS TO KEEP YOU UNDERWATER TO SEE AS MUCH AS POSSIBLE!
• Small Group Sizes
• Longer Bottom Times
• AL80 Tanks Standard
• Computer Profiles on our Boat Dive
Meet The Lanai & Maui Scuba Crew
Erik is the owner operator of Extended Horizons, which he started in 1983 with two sets of dive gear and a lot of youthful energy! He is a US Coast Guard 100 ton Captain, PADI Instructor, SDI Instructor, regulator repair tech, Visual Cylinder Inspector, Certified Interpretive Guide, as well as our trailer repair tech, sometimes head mechanic and all-around maintenance and fix-it guy! If you're lucky enough to dive with Erik, hold on to your hat! He is probably the most passionate, animated dive guide on our staff!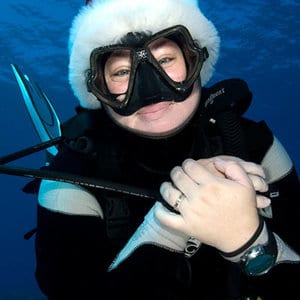 VICTORIA
CAPTAIN/INSTRUCTOR
Victoria began her diving in 1986 in Nashville, TN, and has been with Extended Horizons since 1998, when she came out on a Lana'i charter as an Open Water Diver and decided not to go home! She is Director of Operations, our lead Captain with a US Coast Guard 100 ton license, PADI Instructor, SDI Instructor, a Certified Interpretive Guide, as well as a Published Professional Underwater Photographer. Victoria is also a certified professional for Equine Assisted Psychotherapy (in her former life she was a horse trainer, but now she trains people instead!). Victoria developed the training program for our guides and captains; she does a lot of the organization projects around the shop, usually is our Costco runner, and she's handy with a toolbox for our various projects around the shop! Of all of those skills, her passion as a dive guide is probably her greatest strength!
Growing up in the Philadelphia area, Bruce was fascinated by ocean creatures, particularly sharks and whales.  He got his open water diving certification in 2015 in Monterey CA and has since been lucky enough to dive some great locations in the world including Indonesia, French Polynesia, and the Caribbean. After many years of working in the tech industry in San Francisco, Bruce was ready to do his PADI instructor training in the Florida Keys in the summer of 2021, and then move to Maui to pursue his dream of teaching scuba and getting to dive Maui's great dive sites every day.  Bruce likes to geek out watching any nature documentaries like Planet Earth or Secrets of the Whales that come out!
Rachel grew up in Pennsylvania where the two mouths of the Susquehanna Rivers meet. She has loved being in and on the water since she was born, fascinated by the underwater world. In college, she was torn between her love of the ocean and its creatures, and her love of human interaction. She ended up with a major in Anthropology and a Biology minor. Rachel was lucky enough to have her first dive experience on the Great Barrier Reef in Australia and has taken every opportunity to dive since. In 2019 she decided to make things official, and became certified in Greece, going from Open Water to Assistant Instructor in six months! Rachel completed her PADI Instructor Course on the island of Maui and enjoys working with all of the people drawn here.
Gu (Goo) was born on a small island in South Brazil and was raised being in the water every day. Gu is a PADI Instructor, and his passion for all the activities related to the ocean is contagious and it's not uncommon to find him surfing, swimming or even diving on his days off.
When teaching or guiding new or certified divers, his patience, knowledge and awareness of the conditions and environment can easily set the tone for a great class and/or great dives.
With the privilege of his musical career performing in cruise ships (wait, you didn't know Gu is also a professional musician and a great singer??), his diving career started in 2014 and since then he was lucky enough to dive in places like Roatan, Belize, Cozumel, Jamaica, Dominican Republic, Bahamas, multiple places on the FL coastline as well as Kauai, Oahu, Big Island and Maui where he decided to establish himself in 2019.
We can't promise you'll be able to listen to him singing underwater but you can definitely schedule your next class or guided dive in English, Portuguese or Spanish with him. 😉
As a child Philip was fascinated with scuba, and he took his first opportunity to dive in New South Wales, Australia, which ignited his passion and love for the world's oceans. Then and there he decided he would become a scuba instructor, and upon returning to Idaho, Philip completed his PADI Divemaster training. Philip is a Boise State University graduate and he loves to share local culture and history. He lives by the motto "if you pick up treasure, you must also pick up trash." He loves volunteering his time with Project Aware Dive Against Debris. His dive experience ranges from Australia, cold dark lakes of Boise Idaho, Key West Florida, Cozumel, Pacific NW glacial altitude dives, and now beautiful Hawaii. Philip joined Extended Horizons in 2021 so that he can share his love of conservation and diving with everyone he meets from around the world!
Born on a small island in Brasil to a swim instructor mom and a surfer dad, Gabi has always felt a special connection to the water. After moving to Arizona at a young age, the ocean felt more like a dream than reality but the pool is where she felt most comfortable. While in college she discovered SCUBA diving in the lakes of Arizona, and soon after, she had the opportunity to dive in the Turks and Caicos Islands while doing marine biology research with a study abroad program. While in TCI she fell even more in love with the ocean and SCUBA diving but going back to the lake didn't feel right, so she took a break from diving while she finished up her B.S. in Conservation Biology. As soon as she earned her degree, she went back to Brasil to visit family and ended up staying there to get her divemaster certification. Gabi enjoys learning about the "underwater world" and views every dive is an opportunity to see something new. She is excited to share her knowledge with you.
MYKA
ASSISTANT INSTRUCTOR
Myka grew up in Harrisburg, Pennsylvania, but always dreamed of a life near the ocean. In 2019 they embarked on a backpacking trip to Southeast Asia, and got Open Water certified in Koh Tao, Thailand, knowing instantly that they wanted to make a career of diving. Myka first came to Maui with Americorps NCCC, and decided to make it home following the completion of their service term. Myka's previous dive experience includes Mexico, North Macedonia, and have since been exploring Maui's reefs over the past two years, becoming a PADI Assistant Instructor. Myka joined the Extended Horizons team to get people excited about the ocean, and believes that even something as tiny as a nudibranch has the power to inspire!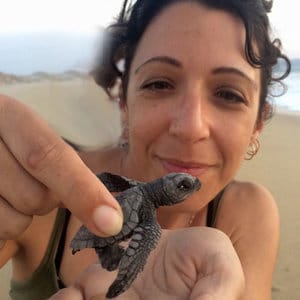 Maren began her dive career in 1999 at UC Santa Cruz, where she went from Open Water Diver through to DiveMaster, while earning a Bachelors degree in Psychology. She decided Maui would be the ideal place to follow her dreams and became a PADI Instructor in 2004. She started with Extended Horizons in 2005, and hasn't looked back… in fact that's kind of her thing, always looking forward. She's now dive guiding with us as a fill-in only, because she has started a new career as a Paramedic and a mom! Maren's can-do attitude and focus on quality customer service makes each charter with her special
WHAT OTHERS ARE SAYING ABOUT OUR MAUI DIVE TOURS
We arrived early. They allowed us to get our gear ready. Our first shore dive. Dive guide was very knowledgeable and carried an underwater slate to write down the marine... read more life we were seeing. Showed us the best way to enter the ocean for a shore dive. Great dive company. We were sad the dive boat was out of commission. Would have booked more dives with Extended Horizons.

redraidertravels


March 5, 2023

First time scuba experience, did the Intro Shore Dive with Bruce. Cannot say enough about how great he was working with my cautious 12 year old to get through the... read more diving skills portion, to make our first experience awesome! The reef was amazing and we felt very relaxed on our first dive!! We both loved it and are talking about getting certified in the future! If you are on the fence - book it - well worth it for the price!!

T4890HRshannons


February 26, 2023

Amazing first time scuba diving experience! - Our Dive Master, Bruce was amazing. This was our first scuba diving experience. And Bruce was very thoughtful, patient with our first time scuba experience. We can't wait to do... read more this again, next time when we have the opportunity. Highly recommend Extended Horizons and especially our instructor Bruce. Great time in the water. Amazing fish and corals and for us overcoming the fear of going to the bottom of the ocean was priceless. Great job! Thank you!

impruteanu


February 16, 2023
WHAT WE HAVE TO SAY FOR OURSELVES
We've been scuba diving in Maui and operating boat charters to Lanai since 1983. We offer the highest quality Maui scuba diving and Maui shore dives that can be found departing from the island's west side. If you don't already have your scuba certification, our Maui dive shop can help with that. Our commitment is to creating an experience for divers of all skill levels that is safe, fun, interesting and first class. No matter if you're diving with us on Lanai or Maui, our scuba dive guides are trained in the local ocean ecology and have years of experience as Instructors.
Take the opportunity to dive Maui by joining our guides on their scuba diving tours that highlight marine behaviors. Any guide can point out the obvious like turtles, but our Maui scuba diving guides actually know the names of fish and can interpret marine life behavior patterns. Their years of experience scuba diving Maui and Lanai allow them to know where animals live, when they mate, and why they are acting unusual.
Extended Horizons leads by example, and has started a movement here on Maui by being one of the first dive shops in Maui to talk about saving the reef and actually take action. To prevent anchor damage, Extended Horizons spearheaded the actual putting in of the first 14 moorings on Lanai in the late 90's and continues to sponsor local NGO's, working hard to make Maui County, including Maui, Molokini and Lanai, a mooring friendly place. Additionally, Extended Horizons conducts semi-annual underwater reef clean-ups. So far we've removed over 1000 of pounds of marine debris off Maui County's reefs over the years through impromptu as well as organized Reef Clean-Up events! Extended Horizons conducts semi-annual underwater reef clean-ups. Check it out on our SPECIAL EVENTS page!  And we are proud to have inspired many other local shops to follow suit.
We have the ONLY commercial marine tour boat on West Maui running on 100% biodiesel (not the only dive boat- the only commercial boat). Our commitment to run 100% is unique. While some Maui dive shops and businesses try to greenwash their image stating they run biodiesel, often this is just a small percentage blend. (Sometimes as little as 1%). Better yet, our biofuel is made locally in the State of Hawaii from recycled feedstocks by Pacific Biodiesel. It does cost slightly more than regular petrol diesel however it is much much much easier on the environment, reducing our carbon footprint (finprint?) by over 80% compared to petrol diesel.
With over 40 years in the scuba industry, we rely heavily on repeat business & word of mouth.
Everyone says "we're the best" in Maui shore dives and Maui scuba diving trips. However, if you're interested in Maui diving but prefer an unbiased opinion, check out what others say about our Maui diving by looking at reviewer sites like Yelp or TripAdvisor.
If you would like to dive in Maui or Lanai, please call us for scuba diving reservations! We will show you Maui and Lanai scuba diving with a quality difference such as using large tanks (80's) for all divers, making computers a standard part of our rental gear, and showing you the unusual and rare sites that Maui and Lanai have to offer.
You can read about moorings on Maui and Lanai and help with the effort. Make a donation earmarked for Lanai moorings or Maui moorings by a click to MALAMA KAI. Donation is tax deductible and will make a difference on Maui's and Lanai's reefs for scuba divers and snorkelers today… and in the future.