THE #1 CHOICE IN MAUI DIVE SHOPS
SCUBA DIVE IN MAUI & LANA'I
COME SCUBA DIVING WITH US ALONG THE COAST OF MAUI AND LANA'I
Extended Horizons operates Maui's friendliest, most experienced, and caring Maui scuba diving shop. Our Maui dive group sizes are small (up to 6 divers). We have nationally credentialed and highly rated Maui naturalists/diving guides that know more, see more, and will show you more. We are consistently ranked the top scuba dive charter with the best Maui dive tours in the Lahaina area.
THE MAUI DIVING BASICS
YEARS IN OPERATION:
37 years diving in Maui!
 GROUP MAUI DIVE TOURS
Small groups up to 6 divers
FOCUS
Safety, Fun, Education, Conservation
STAFF
Guides are Instructors & Certified Naturalists.
Boat captains are divers too.
ECO-FRIENDLY
100% Bio-diesel boat,
Dive Shop Run on Solar Power
Maui Mooring Sponsorships & Installations
Reef Clean-ups & Recycling
ECO MAUI DIVING ETHOS
Extended Horizons was the first, and remains the only boat in Lahaina to run on 100% Biodiesel, sourced and made locally from recycled cooking oils. We've been running without fossil fuels since 2006! We are one of only five businesses in the State to receive Platinum recognition and be awarded the coveted Hawaii Clean Fleets award for our green initiatives. Our use of Biodiesel reduces our carbon footprint by 83% compared to Petro diesel.
DEEPER VALUE
LARGE TANKS (80S) AND DIVE COMPUTERS ARE INCLUDED STANDARD IN OUR LANAI & MAUI SHORE DIVES AND SCUBA GEAR PACKAGES.
• Small Group Sizes
• Longer Bottom Times
• AL80 Tanks Standard
• Computer Profiles
Meet The Lanai & Maui Scuba Crew
Erik is the owner operator of Extended Horizons, which he started in 1983 with two sets of dive gear and a lot of youthful energy! He is a US Coast Guard 100 ton Captain, PADI Instructor, SDI Instructor, regulator repair tech, Visual Cylinder Inspector, Certified Interpretive Guide, as well as our trailer repair tech, sometimes head mechanic and all-around maintenance and fix-it guy! If you're lucky enough to dive with Erik, hold on to your hat! He is probably the most passionate, animated dive guide on our staff!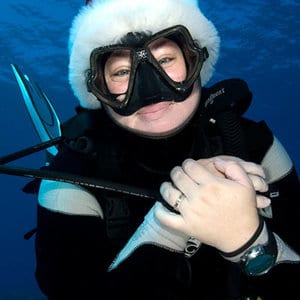 VICTORIA
CAPTAIN/INSTRUCTOR
Victoria began her diving in 1986 in Nashville, TN, and has been with Extended Horizons since 1998, when she came out on a Lana'i charter as an Open Water Diver and decided not to go home! She is Director of Operations, our lead Captain with a US Coast Guard 100 ton license, PADI Instructor, SDI Instructor, a Certified Interpretive Guide, as well as a Published Professional Underwater Photographer. Victoria is also a certified professional for Equine Assisted Psychotherapy (in her former life she was a horse trainer, but now she trains people instead!). Victoria developed the training program for our guides and captains; she does a lot of the organization projects around the shop, usually is our Costco runner, and she's handy with a toolbox for our various projects around the shop! Of all of those skills, her passion as a dive guide is probably her greatest strength!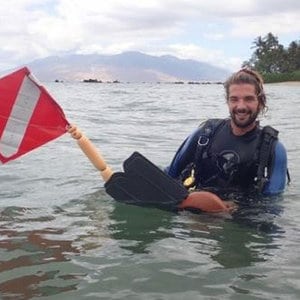 Chris was serious about diving, and he had to be because he learned to dive (Open Water through Instructor) in the frigid waters on Lake 16 in Michigan! He decided diving full time was better in warm water, so he made the jump to Maui, where he began dive guiding at Molokini in 2016. He is also a kite surfing instructor – much better in warm water too! He started at Extended Horizons in early 2018 after gaining his US Coast Guard 100 ton captain's license, and has since become a Certified Interpretive Guide, as well as completed captain training at EH! Chris' kind, Michigan boy-next-door demeanor puts everyone at ease and his enthusiasm for sharing the marine life makes each dive, as one diver said, 'an underwater detective' event!
Howdy Ya'll! Shelby is from Texas and began her dive career as Junior Open Water Diver in 2009. Driven by her curiosity into the underwater world, Shelby earned a Degree in Environmental Science, and soon after graduation moved to Honduras to pursue her Instructor Certification and begin her professional Scuba Diving career. She has participated in Coral Restoration Projects and Eco Programs, and began teaching at Extended Horizons in June, where she loves sharing and obtaining knowledge of the Worlds Oceans.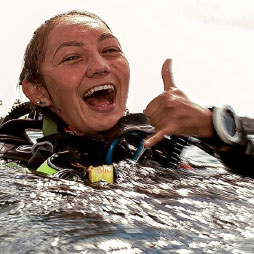 Emma is originally from Los Angeles but has always thought of Maui as her second home. Her mom was born on island and Emma visited her family frequently growing up. She always loved wildlife and decided to pursue a degree in Animal Science and Biology. During her studies, she worked with marine mammals and interned at the Maui Ocean Center where she learned about Hawaiian sea creatures. She earned her Divemaster in Australia and her Instructor certification on Maui. Emma is an enthusiastic, yet calm diver that loves to talk about anything conservation or animal behavior related. Surprising fact: Emma's first dive was right here on Maui at Kahekili Beach as a teenager.
Growing up in the Philadelphia area, Bruce was fascinated by ocean creatures, particularly sharks and whales.  He got his open water diving certification in 2015 in Monterey CA and has since been lucky enough to dive some great locations in the world including Indonesia, French Polynesia, and the Caribbean. After many years of working in the tech industry in San Francisco, Bruce was ready to do his PADI instructor training in the Florida Keys in the summer of 2021, and then move to Maui to pursue his dream of teaching scuba and getting to dive Maui's great dive sites every day.  Bruce likes to geek out watching any nature documentaries like Planet Earth or Secrets of the Whales that come out!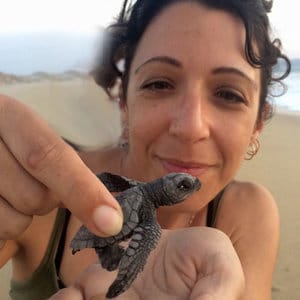 Maren began her dive career in 1999 at UC Santa Cruz, where she went from Open Water Diver through to DiveMaster, while earning a Bachelors degree in Psychology. She decided Maui would be the ideal place to follow her dreams and became a PADI Instructor in 2004. She started with Extended Horizons in 2005, and hasn't looked back… in fact that's kind of her thing, always looking forward. She's now dive guiding with us as a fill-in only, because she has started a new career as a Paramedic and a mom! Maren's can-do attitude and focus on quality customer service makes each charter with her special
WHAT OTHERS ARE SAYING ABOUT OUR MAUI DIVE TOURS
This was a wonderful experience with a great company. Who would want to snorkel when you could get the full perspective with a scuba dive! So happy I... read more picked this company for the dive compared with others that seem less focused on safety and experience. Highly recommend Extended Horizons!!

Somer M


January 1, 2022

Extended Horizons provided us with one of the best diving experiences we've had. We've been to many different shops but Extended Horizon's stands out as one of the best. Our... read more crew of Victoria, Emma and Chris were all very nice and helpful and insured our dives would be a great time. We could tell that there was a genuine care for the environment, and our guides made sure to point out everything during our dives. When we surfaced they explained everything and made sure we knew what we saw. On top of all that, while on the boat the crew took care of all the gear switches and made sure we had everything we needed. We would definitely come back and use Extended Horizons again and recommend it to anyone looking to dive on the island.

Ryan G


January 1, 2022

The end to end experience was wonderful! The online booking was easy and then the love experience was fabulous. Phil was very attentive and knowledgeable. I have trouble equalizing my... read more ears and he made sure I went slowly. In our dive, he took us to the Mala Pier and we saw so many fish, turtles, and even several reef sharks. Can't recommend highly enough.

Lidia Y


January 1, 2022
WHAT WE HAVE TO SAY FOR OURSELVES
We've been scuba diving in Maui and operating scuba charters to Lanai since 1983. We offer the highest quality Maui scuba diving and Maui shore dives that can be found departing from the island's west side. If you don't already have your scuba certification, Maui dive shops typically offer PADI Lanai and Maui dive instructors that can help with that. Our commitment is to creating an experience for divers that is safe, fun, interesting and first class. Our Lanai and Maui scuba dive guides are trained in the local ocean ecology and have years of experience as instructors.
Take the opportunity to dive in Maui by joining our guides on their scuba diving tours that highlight marine behaviors. Any guide can point out the obvious like turtles, but our Maui scuba diving guides actually know the names of fish and can interpret marine life behavior patterns. Their years of experience scuba diving Maui and Lanai allow them to know where animals live, when they mate, and why they are acting unusual.
Extended Horizons leads by example being one of the few dive shops in Maui that talks about saving the reef and actually takes action. To prevent anchor damage, Extended Horizons spearheaded the actual putting in of the first 14 moorings on Lanai in the late 90's and continues to sponsor local NGO's, working hard to make Maui a mooring friendly place. Additionally, Extended Horizons conducts semi-annual underwater reef clean-ups. So far we've removed over 400 lbs of marine debris off Maui County's reefs this year 2018! Additionally, Extended Horizons conducts semi-annual underwater reef clean-ups. Check it out on our SPECIAL EVENTS page!
We have the ONLY commercial marine tour boat on West Maui running on 100% biodiesel (not the only dive boat- the only commercial boat). Our commitment to run 100% is unique. While some Maui dive shops and businesses try to greenwash their image stating they run biodiesel, often this is just a small percentage blend. (Sometimes as little as 1%). Better yet, our biofuel is made locally in the State of Hawaii from recycled feedstocks by Pacific Biodiesel. It does cost slightly more than regular petrol diesel however it is much much much easier on the environment, reducing our carbon footprint (finprint?) by over 80% compared to petrol diesel.
With over 35 years in the scuba industry, we rely heavily on repeat business & word of mouth.
Everyone says "we're the best" in Maui shore dives and Maui scuba diving trips. However, if you're interested in Maui diving but prefer an unbiased opinion, check out what others say about our Maui diving by looking at reviewer sites like Yelp or TripAdvisor.
If you would like to dive in Maui or Lanai, please call us for scuba diving reservations! We will show you Maui and Lanai scuba diving with a quality difference such as using large tanks (80's) for all divers, making computers a standard part of our rental gear, and showing you the unusual and rare sites that Maui and Lanai have to offer.
You can read about moorings on Maui and Lanai and help with the effort. Make a donation earmarked for Lanai moorings or Maui moorings by a click to MALAMA KAI. Donation is tax deductible and will make a difference on Maui's and Lanai's reefs for scuba divers and snorkelers today… and in the future.